By Sherian Batalliones, 09/07/2021
If you knew the struggles of moving into the cloud when the pandemic forced businesses to shift online, you're likely one of the many organizations now concerned with Microsoft 365 backup and security.
With ransomware attacks being more prevalent than ever and there being a plethora of strict regulations to navigate, AvePoint Chief Brand Officer and Microsoft RD and MVP Dux Raymond Sy and Senior Solution Engineer Antoine Snow walked through how to determine the worth of Microsoft 365 backup in their recent webinar "5 Ways To Calculate The Value of Microsoft 365 Backup." Read on for some key takeaways.
Why Back Up Microsoft 365?
Microsoft has shaped the business scene with platforms that changed the way we work. When it comes to infrastructure—hardware, software, protection against data center failures—you can rely on Microsoft to lead with innovative solutions.
But while many people think going to the cloud and adopting Microsoft 365 instantly equates to protected data, that is only true to a certain extent. According to a Forrester report, it's ultimately your responsibility as a user to fully protect your own data.
There's protection Microsoft natively offers—version controls, recycle bins, file restores, soft-delete—for some common data loss scenarios like accidental file deletion and data corruption. But data loss scenarios don't only involve file deletions. Ransomware and malware attacks, prolonged outages, and even strict data regulations all require a more comprehensive backup strategy.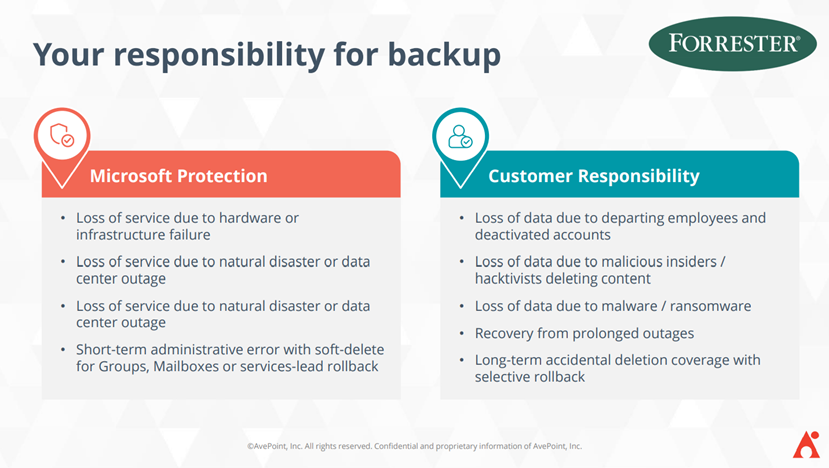 Recovering from data loss, whether low or high impact, can be time-consuming, requires a lot of effort, and may affect the whole organization. Certainly, you can back up your data on your own, but relying on a trusted organization will save you money, time, and effort.
If you want a secure and convenient backup and recovery strategy, consider utilizing a good third-party backup solution. Working in this industry over the last 20 years and being the largest data management solutions provider for Microsoft 365, AvePoint offers world-class backup platforms that provide automated and comprehensive backup across different Microsoft 365 workloads.