In this article I would like to devote some attention to the issue of internal communication. As with the digital transformation, which I mentioned in the text "Digital transformation – where to start", internal communication has many definitions. Interesting suggestions for defining what internal communication is can be found at the following link:
http://beedifferent.pl/blog/komunikacja-wewnetrzna-jedyna-sluszna-definicja.
However, regardless of the definition, the role of internal communication in business is important and many trends indicate that its importance will gradually increase.
In order to improve internal communication for several years, various IT tools have been used: e-mails, intranets, various types of chats, social media. Will each of these tools be the right one for your business? How we communicate in a particular organization depends on many factors: the size of employment, average age of employees, industry, geographical location – in a broader sense of organizational culture.
Therefore, when considering the implementation of the "system" for internal communication, it is worth considering conducting a communication audit. The audit should answer the key question – "what's wrong?", But also to improve the company, build and protect the brand. Only then, knowing better the needs and challenges of the organization, you can start to search for the right tools.
Internal communication has different faces. There are organizations that prefer formal, two-sided (I would say hard) communication, the purpose of which is primarily to convey the most important information to their employees. At the other extreme, we meet companies in which communication is multidirectional, social, where an employee's open question to the president (by calling him by name) is something completely natural and universally accepted. What tool will work in your workplace is directly related to organizational culture.
It would seem that knowing and understanding the challenges here and now, choosing tools will be a simple task. Are you sure?
Currently, much attention is paid to the categorization of the generation in which employees, such as millennials, generation X, Y, Z, can be classified, and on this basis building employee commitment. The labor market is simply evolving, organizations and their needs change over time and it is bearing keeping this aspect in mind when choosing tools.
Just a few years ago, in conversations regarding internal communication tools, one could often find the following statements:
"We are a small organization, we communicate mainly via e-mails, we do not need an intranet"

"I can't imagine that a solution will be introduced in our company, but Facebook"
Today we can hear more and more often:
"We are looking for a solution that will help us build a real company community"

"We work mainly in projects, file sharing and communication via emails is inefficient for us"
Do the above quotes suggest a widespread resignation from using email in internal communication for social media? Definitely not, as I pointed out a few paragraphs before, organizations and their needs, awareness and readiness for change varieties.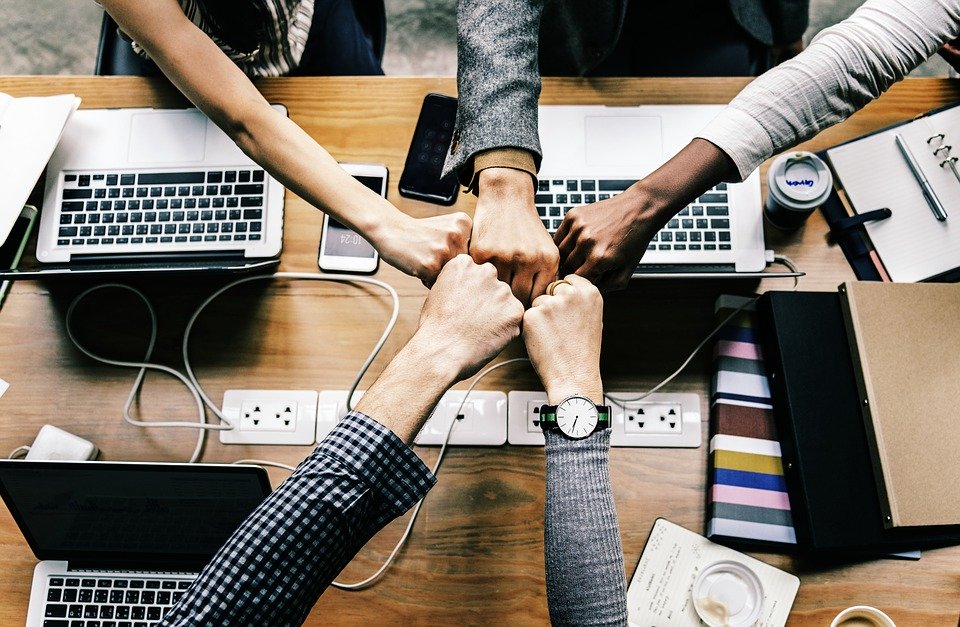 Choosing communication tools, it is worth considering their usefulness in the long run with particular emphasis on flexibility and the possibility of implementing various communication scenarios. Such a solution can be, for example, the Office 365 platform.
Many people who are just getting to know Office 365 have the impression of a very similar similarity between individual solutions. This also applies to those from the sphere of communication.
"I have an email, so why do I need this Yammer?"
Po co Yammer, Teams, SharePoint i Outlook? Czy bogactwo rozwiązań generuje więcej korzyści, czy problemów?
Let's look at it from a different perspective – regardless of the specifics of your company, organizational culture, specific processes related to your business, Internet applications and services available in Office 365 gives the opportunity to implement various communication scenarios. If your organization needs:



you can use Microsoft Teams. This application is not only chat and video conferencing. Thanks to the possibility of working together on documents and easy integration with other applications (also outside of the MS Office suite), MS Teams is increasingly an essential tool for teamwork. If you see the need in your company:



a solution that is worth considering will be Yammer. Although not all organizations still recognize the value of the company's community, this phenomenon continues, even without the participation of the employer. Publicly available "off-company" solutions are used, which meet the communication needs of employees, but at the same time are potentially dangerous for the company (e. g leakage of sensitive data). Therefore, if you want to have a better impact on the community in your company, derive business benefits from it, with the appropriate level of security, Yammer can be the key to success.
And what if in your organization:



Here a few words should be written about SharePoint Online. It is a powerful platform, although due to its past, it has been criticized many times for "clumsy" and not very friendly interface.
This was the case, but in line with the ongoing changes, Microsoft also took a step forward. SharePoint Modern, because we are talking about it, is available only in the online version. This is a good suggestion if you are considering implementing a Digital Workplace in your organization that will support internal communication and other processes such as organization's document and knowledge management, absence management, onboarding, training and competence assessment.
Company email and Outlook – intentionally left behind. Of course, in internal communication you don't have to use Teams, Yammer, SharePoint and many other very good solutions available on the market – you can use e-mail. However, it is worth considering the effectiveness of this tool in comparison with others dedicated to internal communication. One of the basic challenges in the sphere of communication is the skilful division between the internal and the organization directed outside – where e-mail is still doing very well.
I would summarize the advantages of using the Office 365 platform in internal communication in several points:



I think the last point is the most important. Use the Office 365 platform the way you want and need. It's up to you to decide which tools and to what extent will be used in your company now and in the future.
There is a whole range of communication solutions available on the market – Office 365 is just one of the proposals, and the tools themselves are not a cure for all problems. The key to internal communication is diagnosis, determining what the organization and its employees need. These questions should be answered by the communication audit mentioned at the beginning, which should involve external partners, thanks to which the results will be objective. Certainly, help you choose the right communication solutions, but it's still not the end of work. One should always take care of internal communication – but this is probably a topic for a separate article.
If you arrived at this place, thank you for your time. I encourage you to share your own experiences and opinions. Maybe you use other solutions in your organization that are as good as those described in the article or in your opinion even better. I invite you to leave a comment.
Paweł Kruk
pkruk@it-dev.pl
Icons source: https://icons8.com/icons