Each of us uses social media in which we get a lot of notifications and interactions. And how does it work at all, how it happens that we get "like", notification, message, how does the example of Instagram from FB cooperate? Someone had to write a code, someone else had to have a given application or system to automate, someone had to plan scenarios and flows, that is, what and when to go. Power Automate (earlier MS Flow) works similarly, thanks to which we can create automated flows between applications and services. But it is not someone who creates an automatic flow for us, but we do it ourselves, according to our own needs. As a result, we receive notifications, synchronize files or collect data.
Collection of templates
In the Office365 Power Automate (MS Flow) service we will find, among other things, the applications that we have already discussed on our blog. The very friendly home page of the application will initially offer us a collection of templates. These are ready and popular flows in the field of sales, HR, marketing and many other areas, which have already benefited many people.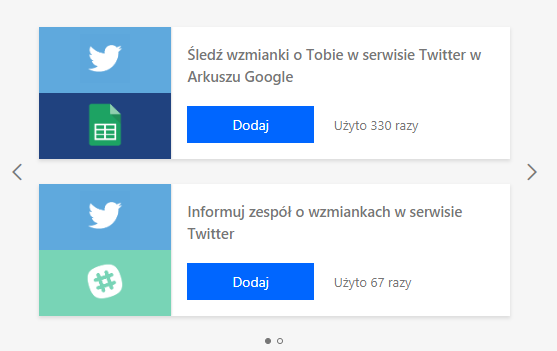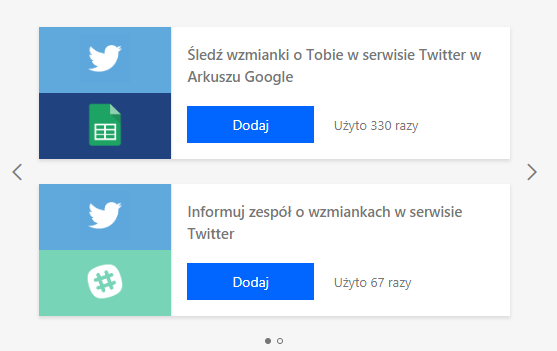 Ready-made scenarios
Since we gave an example of social media at the beginning, let's stop at this thread for a moment. Let's assume that our company has accounts on social networks, for example on Twitter. Every mention or interaction with our company is important to us, and the data about who and what he wrote to us, he liked, mentioned, we want to transfer to the sales department or gather in the xls sheet. Nothing simpler. We have a choice of several ready-made templates, adapted to our scenarios and needs.
Popular templates
When we return to the main page of Power Automate (MS Flow), we also find popular connectors, including over two hundred services and ready connectors and many ready-made templates, divided into types, types, along with information about the author and popularity.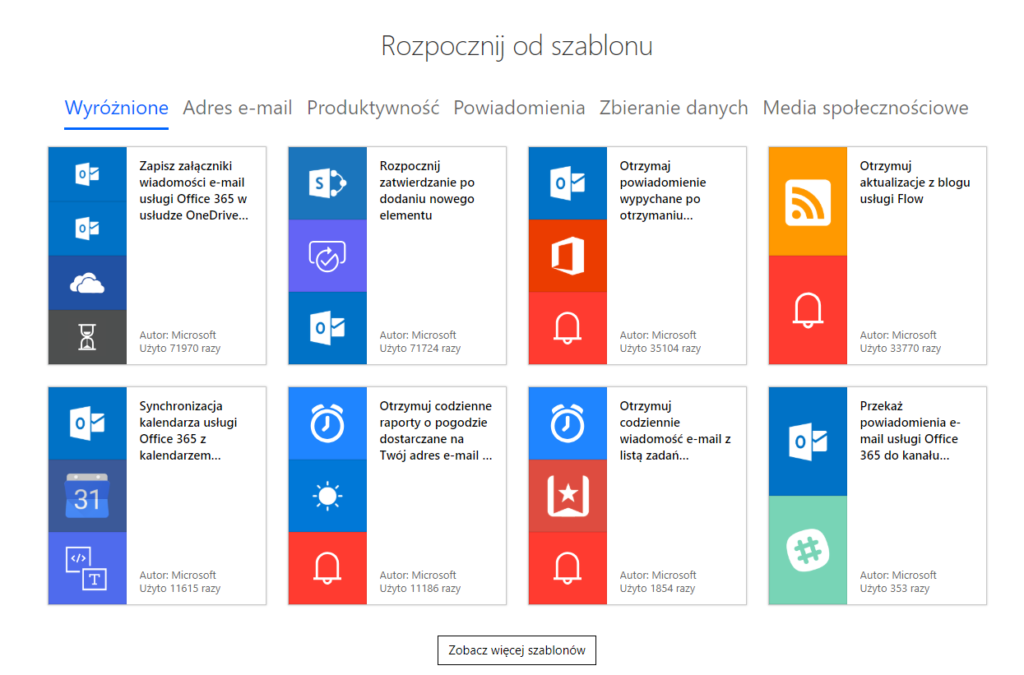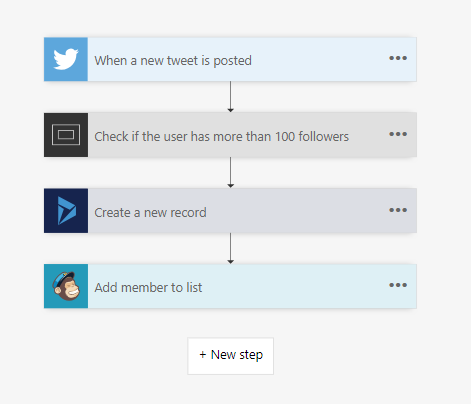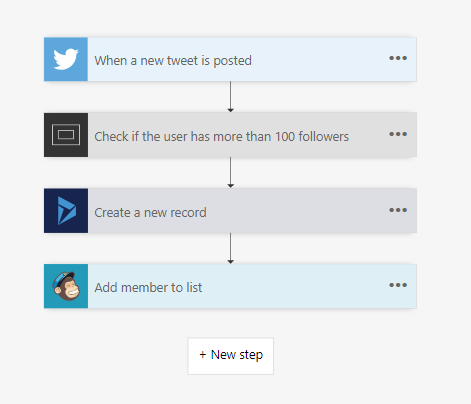 Scenario creation
What if none of the templates meets our needs, we have some automated processes in the company, but we would like to have our own more structured working and do we need multi-stage flows? Nothing simpler. We can write our own scenario ourselves and transform frequently performed tasks into multi-stage workflows.
Starting the action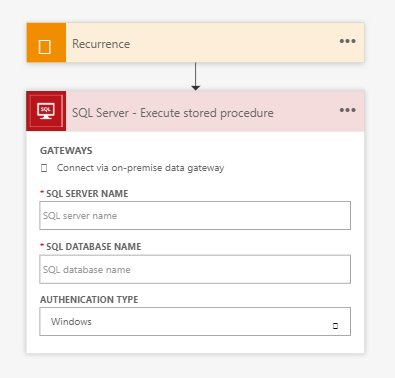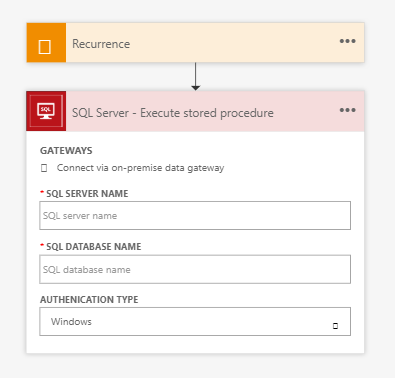 What we call inside flows is called starting the action. It will only run if the specified condition is met. It's a bit like a task in logic, it will do something if something else happens or meets a certain condition, and the result will be a specific process. Only from us, our needs, our creativity and creativity depended on what the flow will be and what will be its effect.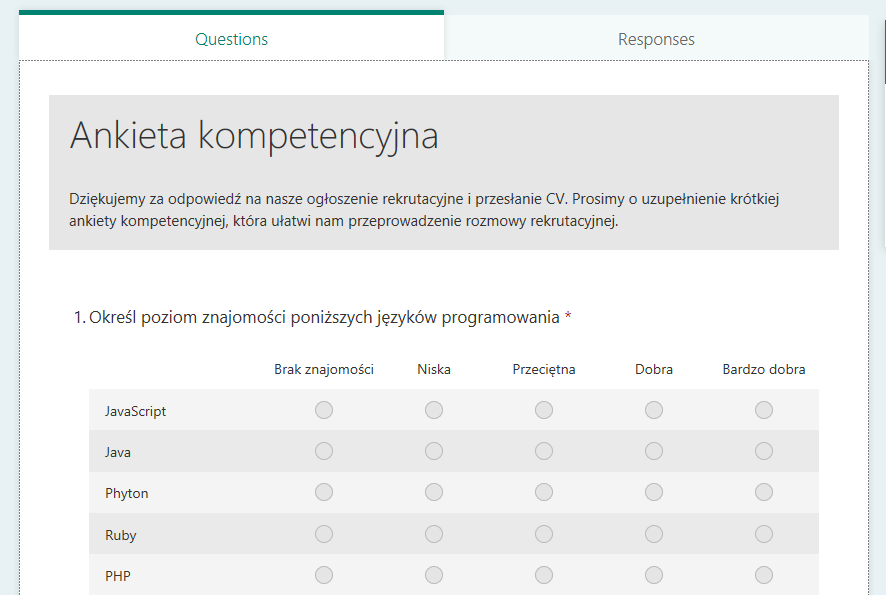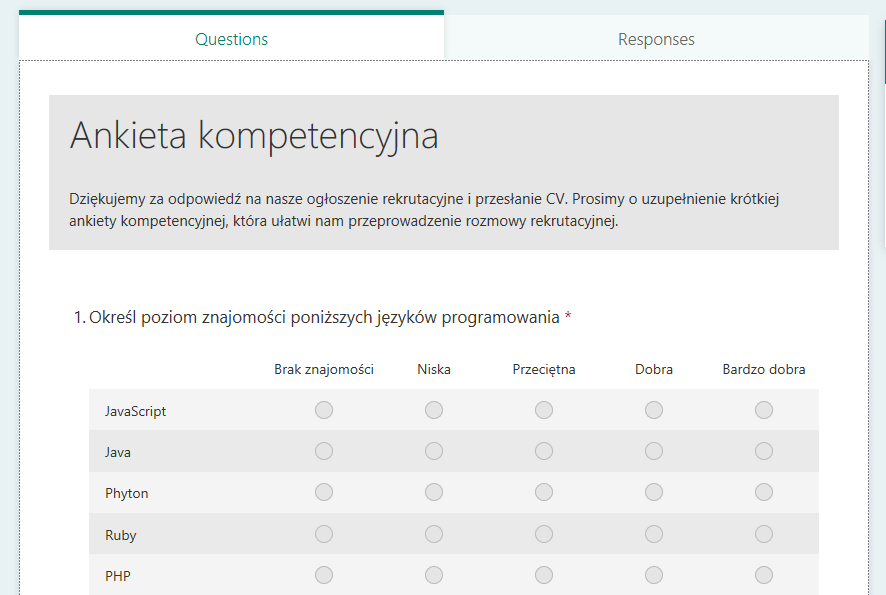 Example scenario for the HR department
For the purposes of this article, we created a scenario for the HR department. We assumed that candidates who apply to the company respond to the recruitment announcement by sending an e-mail, they will receive a competence questionnaire. By sending an e-mail in response to the advertisement, the candidate will receive a questionnaire asking for the definition of his / her competences. In the video below, we show the individual steps to create your own flow manually. And what next? What will happen to the candidate's answers? Here we used the ready scenario. When the candidate completes the questionnaire, the information will appear in the Microsoft Teams service on the HR website and the entire team will be notified that the data for analysis is already available. We will prepare a separate entry about Teams.
To summarize our entry, Power Automate (earlier MS Flow) is the perfect tool for people who have many different, repetitive tasks. For the cloud application ecosystem, MS Flow is the same as the rules and macros in xls. This is certainly a way to shorten paths between systems. Look at our film on how MS Flow works.
Automation of everyday work using Power Automate (earlier MS Flow)